WN302RA200M Multi-Axis Motorized Rotation Stage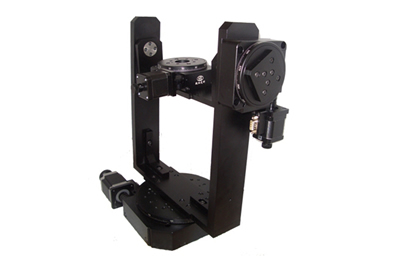 Multi-axis Motorized Rotation Stages is composed of 3 High Precision Motorized Rotation Stages, and the motorized stage's rotation would not be disturbed by the winding due to the equpped conductive slip ring. This precision rotary table is suitable for providing rotational displacement by electric control in automatic displacement control in scientific research, full-automatic measuring and testing equipment, industrial automation and other fields.
Parameter table of Multi-axis Motorized Rotation Stages
| | |
| --- | --- |
| Model | WN302RA200M |
| Angle range | 360° (X,Y,Z) |
| Table size | 150×150mm |
| Transmission ratio | 180:1 |
| Guide type | bearing |
| Stepper motor (1.8°) | SST57D3301 |
| Center load capacity | 10kg |
| Weight | 10kg |
| Resolution | 0.01°=36″(Non-MS driver) 0.0005°=1.8″(20 MS driver) |
| Speed | 10°/sec |
| Repeatability | 0.005°=18″ |
| Run-out of top plate | 15µ |
| Backlash | 0.005°=18″ |
| Step-out | 0.005°=18″ |
Features of Multi-axis Motorized Rotation Stages
Equipped with standard stepper motor and RS232 interface, the WNSC series motion controller which was independently developed by BJWN can realize automatic control.
The motor shaft is made by several precision processes, ensuring high precision, high load and long service life.
Precision worm and worm gear structure for stable rotation; the motorized stage could rotate forward or backward with minimal backlash.
Because of delicate backlash eliminating structure, the backlash caused by long-term operation could be adjusted .
The special design could ensure the extremely run-out and eccentricity of the motorized stage, making the rotation more stable.
The central hole and rotating center of the rotation stage meet the strict requirements of coaxial degree, and the central aperture of the rotation stage has strict tolerance limits, easy for customers to do precision positioning.
The scale along the outer edge of the motorized stage's platform is a laser marking ruler, and the ruler could rotate relative to the precision stage, easy to initial position and read.
Connected the stepper motor and worm by high quality flexible coupling, good for eliminating eccentricity and greatly reducing eccentricity disturbance, lower noise.
The multi-axis Motorized Rotation Stages could be customized, such as adding limit function, setting the initial zero, changing the servo motor, and adding the rotary encoder.
Related Products